Narang Bir-rong is certified as a Great Place To Work

---
We are the first Aboriginal Community Controlled Organisation to receive this certification!
At Narang Bir-rong we take culture seriously. It guides everything we do. As a leader in Aboriginal Out of Home Care our employees are second to none and as a commitment to that culture all frontline staff must identify as Aboriginal and/or Torres Strait Islander.
Because of this commitment, we place culture and workplace experience at the front and centre of everything we do.  We use the term 'culture' not only to express workplace culture but also to connect our people to the rich culture that proudly has been part of this great land and first nations people for over 65,000 years.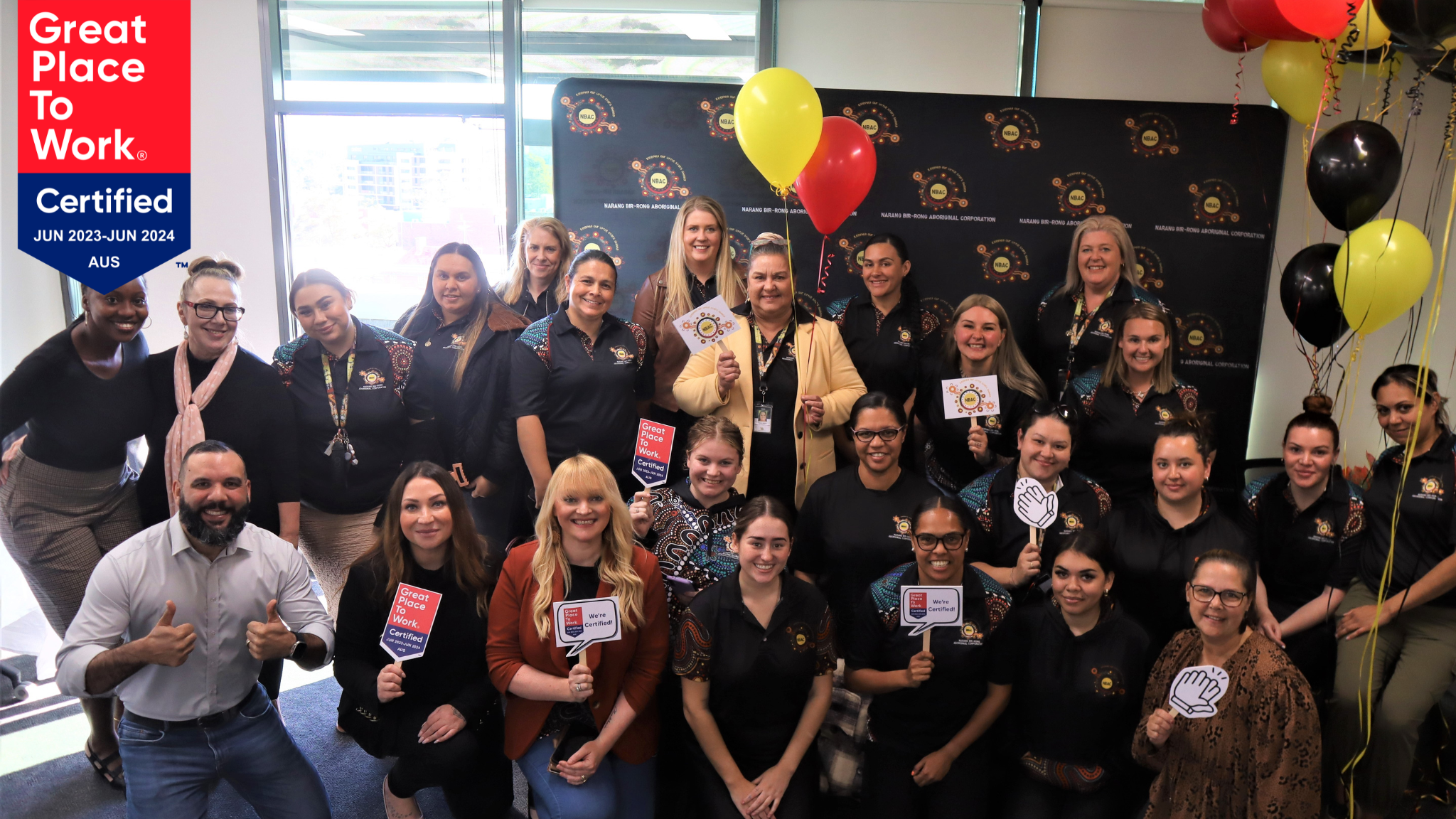 However, having an organisation with the majority of our team identifying as First Nations People can also come with its own challenges. The impact of invasion, The Stolen Generations and displaced cultural connection escapes no one in our community. Therefore, our investment into our staff and their journey is critical. We say it simply as this: Healed people heal others.
Charged with supporting Aboriginal kids in care and, keeping families together the Great Place To Work Certification is another step on our journey to lead a new way of representing Aboriginal community controlled workplaces.  But this is not just across Aboriginal led organisations but also for other workplaces. How? We lead with love, empathy and care! This makes sense when you consider what we do, doesn't it? Sadly the concept of caring for others is too often just lip service in other organisations but at Narang Bir-rong – we don't just walk the talk, we bleed it. Our values are embedded across the entire organisation. We have whole team days devoted to our values.
We are always looking for great people to join our team with a 'can do' attitude. An ability to be adaptable and a genuine commitment to empower our people. Certification helps us send a prompt to those appropriate job seekers genuinely seeking to work in a great company culture, that delivers not only meaning and purpose in the work we do but also places the personal growth of our team at the core of our organisation.
Like we said – we invest the best into our employees!
NBAC
---
At Narang Bir-rong Aboriginal Corporation, we are committed to keeping kids with their families through our family preservation program. As an Aboriginal-led organisation, Narang Bir-rong Aboriginal Corporation understands that the best way to create meaningful change for the Aboriginal and Torres Strait Islander community is by working with individuals from the same cultural background. With our holistic approach to solving complex problems, we are able to build trust and rapport with families, achieving positive results and driving real change.
Contact our team today to find out how we can help.
Supported by